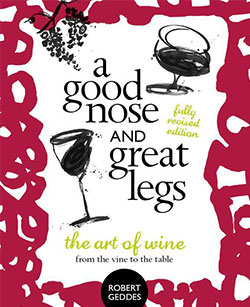 Rob Geddes MW's quintessential guide to wine. Reprinted many times, this classic is a must-read for any wine lover.
Out of stock
SOLD OUT!!
A Good Nose and Great Legs: the art of wine from the vine to the table
An entertaining, witty and modern reference book that provides readers with the knowledge to choose and enjoy wine with flair.
'A good nose' reflects half a lifetime of study and captures the grape varieties, vineyards and winemakers to give you a detailed but easily readable overview of the Australian wine industry.
Chapters range from the history of wine, to varieties, wine making, tasting and food matching.
This book is full of great information and insights. It's aimed at anyone with an interest in a fine drop.
"A Good Nose & Great Legs," by Robert Geddes, is not just a great title for a wine book, it covers just about everything that should matter to Australian drinkers.

Sydney Morning Herald
Just when you thought you knew everything there was to know about wine, along comes this outstanding book by Australia's third master of wine, Robert Geddes. Of particular interest to winemakers would be the section titled "The importance of place" which throws up some interesting and original observations about terroir. This is a deadly serious read which should be in the library of any serious Australian winery, but Rob's quirky sense of humour shines through to lighten the load a bit, ensuring not only an educational read but an entertaining one as well. Score: 96/100.

Wine Business Monthly
This is a most enjoyable book for those who already know something about wine but want to know more: and you'll enjoy his lively writing style that ranges from the racy to the delightfully droll and quirky…the wine buff will find themselves referring to this gem time and again – and we loved the many quotable quotes scattered liberally through its pages…

Melbourne Observer
Robert Geddes' contribution is two titles for the price of one. Attractively designed and easy to read, it seems to be pitched to the wine drinker who has been through the beginner phase and wants to delve deeper…Geddes shows the depth of knowledge a master of wine should have.

The Weekend Australian
Geddes is a rare creature, an Australian-born Master of Wine. He's also a very skilled writer and this guide to Australian and international wine culture is an irreverently informative look at how the juice of a grape becomes such a sensual experience. It might only be a drink, but Geddes shows how wine is a complex synthesis of antiquity, flavour, colour, diversity, food compatibility and quality. The perfect book for anyone who enjoys a nice drop!

Abbeys Book Shop