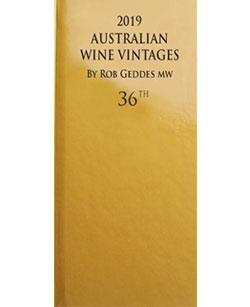 Thousands of tasting notes for Australian wines, plus the Top 100 and Gold Star recommended wines for 2019
ORDER NOW
Out of stock
Australian Wine Vintages
The fully updated, 36th edition of Australian Wine Vintages by Rob Geddes MW showcases the best vintages from Australian wineries in a compact, easy-to-use format.
You receive:
New – Top wines for every budget!
Detailed tasting notes for thousands of wines
Advice on vintage quality
When to drink each wine
Advice on the best regional wine styles and producers in each region
Top 100 list of wines for 2019, plus 5 Gold Stars rated wines
Rob and his tasting panel of professional wine reviewers and industry experts provide advice you can trust.
Australian Wine Vintages is the best of its genre on the market, concise and easy to use.

Amanda Tulloch, Keith Tulloch Wines
Australian Wine Vintages is…a real treasure-house of information for everyone from the most serious collector to the total novice.

David Ellis, PS News
I have a cellar in excess of 2000 bottles and find Australian Wine Vintages a handy aid. It's a great innovation to see the restaurant and wineries information.

Eric Hill, NSW
I just wanted to say how much I appreciate your book. Exceptionally lively, well presented and thoughtful.

John Harry, VIC